Welcome to another edition of Truthful Tuesday with Night Owl Crafting.
Over at the super fantabulous Night Owl Crafting blog, Leslie posts five questions each Tuesday to get to know each other a little better!
I LOVE the idea and am happy to join up on
Hooo Are You?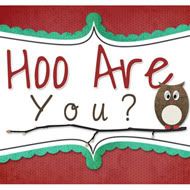 Here are this week's Questions:
1.
What is your favorite craft or type of craft and if you are a crafter
2. What shows have you been watching this summer?
3. Who does the yard work at your house?
4. Are you working on any projects inside the home or outside this week?
5. Do you have to worry about getting ready for back to school?
1. My favorite type of craft is sewing. I'm fairly new to sewing but I love to sew quilts. I've self taught myself everything and I'm having a blast figuring it out along the way.
2. I'm watching Hell's Kitchen right now. We love anything with Chef Ramsey. (In Fact, KidMo is considering BEING Chef Ramsey for Halloween! LOL) I also am a sucker for reality shows, I love to watch the Bachelorette.
3. MoDaddy does all the yard work. He's responsible for everything on the outside of the house and I'm responsible for the inside :)
4. This week we are focused on Celebrating! KidMo turns 5 today and we had a super fun day with him. We're getting ready for his Cars 2 party this weekend. I also just wrapped up one quilt and am starting another!
5. This is our FIRST back to school season. I have no idea what I'm doing or what to expect. I can hardly believe my baby is old enough for school. He starts Kindergarten soon. ACK! help! lol