I decided to whip up a 4th of July wreath today.
I tell you, it doesn't get any more simple than this:
HERE
on
Landee See, Landee Do
. Take a look at her super cute creation...
And, be sure to stop by her blog for her own step by step directions.
Okay, here is a quick DIY tutorial of how I made this little wreath in under 20 minutes.
1. Step one, get your choice of wreath and wrap it with your favorite ribbon.
(Be careful of sneaky attack cats lurking in the background -they will try to steal your ribbon when you are not looking)
TIP: I purchased this wreath from the Dollar Store and had it on hand. I would have preferred a thicker wreath, and possibly a styrofoam one like on
Landee See, Landee Do
but I just didnt have one handy.
2. Step two: If using a similar wreath to this, try using small amounts of super glue along the way to keep your pieces in place. I used one roll of 15 foot ribbon which was not enough. I had a secondary ribbon which I used and decided to place streamers down from one section of he wreath. I simply tied off these ribbons like so:
3. Step 3: Get out a piece of 12x12 scrapbook paper. Fold it back and forth in an accordian style. Cut in half lengthwise and then glue ends together to make a cool "firework" or circular shape. Attach it wherever you like with ribbon. I might go back and add two or three small ones for more flair :)
4: Step 4: You are done! Here is sneaky attack cat Mashmo inspecting the final product:
And, here is the final product on the door:
What do you think?
This wreath was featured on: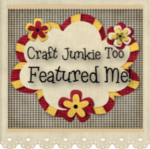 Linking up here:
Today's Creative Blog
DIY Showoff
,
Not Just a Housewife
,
Tip Junkie
,
We Did It Wednesday
,
Lil Luna
,
Sister Stuff
,
Organize and Decorate Everything
,
Someday Crafts
,
Domestically Speaking
,
T-Shirt Diaries
,
Paisley Passion
,
Saved by Love
,
Whipper Berry
,
Sassy Sites
,
Shabby Nest
,
Fingerprints on the Fridge
,
Its a Hodgepodge Life
,
DIY Club
,
My RePurposed Life
,
Serenity Now
,
Funky Junk Interiors
,
Craft Junkie Too
,